The death of a loved one is painful. We understand your pain and know that your grief is accompanied by many events and administrative tasks to complete.
You would like to be able to close the entire digital accounts of your loved oneincluding that of Coinbase ? Call on Legapassif you are indeed a testamentary legatee. The company of transmission of digital inheritance, will bequeath to you the accesses of the deceased that this last one had informed in a ultra-confidential way. Indeed, the data being highly secured, only you will have access to the information. No one, not even Legapass, can access it thanks to a very powerful encryption system.
Coinbase is a Californian platform ofbuying/selling of cryptocurrenciessuch as Kraken or Binance. It is located in San Francisco.
The company was born in 2012 and was founded by Brian Armstrong. The brilliant CEO had previously worked as a developer at IBM, a consultant at Deloitte and a software engineer at Airbnb.
The idea to create a digital currency exchange company came from the inflation Brian Armstrong had seen during his year-long stay in Buenos Aires, but also from the complexities of transferring money to South America even while working for Airbnb. So that's when he started working on buying and storing cryptocurrency.
The April 15, 2021Coinbase was valued on its first day on Wall Street at 86 billion dollars, close to Facebook in 2012.
What is a Coinbase crypto wallet?
First of all, you need to know that Coinbase being a cryptocurrency exchange platform, you need to be equipped with a wallet to be able to buy, sell and store cryptos via the platform.
And like many other digital currency trading platforms, it has its own own portfolio service. His is called : "Coinbase Wallet. So it allows you to do everything that a crypto wallet concedes, namely: store, transfer and spend digital money.
The wallet is therefore completely independent and can even be used via other cryptocurrency exchange platforms without even having an account on Coinbase.
Thus, a Coinbase account should not be confused with a Coinbase wallet.
However, you now know the difference, so you will have to access both applications.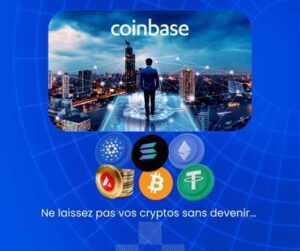 ➡ If your loved one only had a Coinbase account
This implies that he also had to have a cryptocurrency wallet elsewhere.
So you'll have to look for it, as it may have a completely different name than the famous platform.
Moreover, it can also be of three different natures:
Physics : it is then an external support, therefore hardware such as a USB key.
Software (like Coinbase Wallet, but there are many others).
Paper (although this format tends to disappear).
➡ There are several choices:
You can access the portfolio to sell cryptos via Coinbase or the platform of your choice to recover non-digital money.
You can decide to transfer cryptos from the deceased's wallet to your own wallet of cryptos if you have one in order to directly recover all the crypto-currencies that your loved one owned.
How to recover money from Coinbase crypto wallet?
The procedure is quite simple and involves no less than 5 steps.
First, go to your account Coinbase.
Then click on "Portfolio"  then on "EUR portfolio
Select the option "Remove".
At this point, you must define the amount to be withdrawn, but it goes without saying that the entire amount to be withdrawn at once is the most practical solution.
To finish, all you have to do is confirm the transaction
How to close a Coinbase account
You must then contact the platform through this link.
You will need to include a copy of the death certificate, your identification and all legal documents proving your legitimacy in the estate.
If you are not familiar with crypto-currencies, the Coinbase team will guide you.
If you had had access to the account, all these formalities could have been avoided.
Don't leave your loved ones in trouble, open a Legapass account !