Secure the transmission of your digital assets
Make sure your family can get your digital currency and data back.
The most secure & 100% French solution 🇫🇷
Certified storage
EAL5+ ﹠ FIPS 140-3 Level 3 ﹠ NATO Restricted level
🔒 Military Grade Cryptography
We use the best open source, proven and trusted encryption algorithms.
Total confidentiality
Thanks to our "zero access" architecture, your data is encrypted from end to end and remains confidential until it is returned.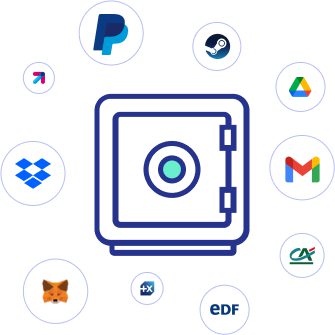 Your confidential data is kept at the highest level of security, in safes disconnected from the Internet.
Secure transmission
Transmission under the control of a bailiff, to you in case of damage or to your heirs in case of death.
Secure the keys to your digital world!
Your digital assets have immense monetary and sentimental value. Don't take the risk of losing it all!
01 - Add your secrets
Fill in all your digital service access information and we will keep it offline
02 - Indicate your trusted third parties
Designate your trusted third parties to help us contact your successors
03 - Add instructions
Add notes and instructions so that your heirs can know your last wishes
04 - Secure return
We ensure the transfer of your estate under the supervision of a bailiff
Don't let your accounts end up in the hands of a hacker!
"The equivalent of $140 billion worth of bitcoins are lost or blocked!"
The average adult has more than
100 accounts

digital