The future of your assets is safe!
Protect all your access codes online in one place and anticipate their transmission in case of trouble.
Join our thousands of members! 🤗
Whatever your situation, we have a solution pour vous !
Je ne peux que vous conseiller d'ouvrir un compte, ça fait longtemps que j'attendais une solution comme celle-ci.
3 steps to a optimum protection of your assets
Add simply essential accesses to protect with Legapass thanks to your space ergonomic and intuitive.
2. Designate the beneficiary of your safe deposit box.
In just a few clicks, choose the person who will have access to the contents of the safe deposit box in the event of death with the customizable beneficiary clause.
3. Benefit from secure transmission.
Ask the data recovery or give your beneficiary access to it upon your death with our unique restitution process of its kind.
Prêts ? Ouvrez votre compte gratuit en 5min !
Create your account for free en quelques secondes et voyez par vous-même ou participez à une demonstration with one of our experts.
A solution designed around the security
Données inviolables
The sensitive data you send to your Legapass safe is instantly encrypted thanks to the OpenPGP encryption.
Offline storage
Encrypted data is stored on tamper-proof hard drives thanks to a major innovation of which we are the secret.
Accès unique
We have developed a return system that allows only 1 person to access the safe: you or your beneficiary. That's all there is to it.
Pour maintenir the highest level of securityLegapass works with YesWehack première plateforme de Bug Bounty en Europe.
Découvrez pourquoi la solution Legapass est sécurisée !
Join the thousands of members who already love us!
At last, a serious, competent and, above all, unrivalled company. La meilleure solution pour sécuriser mes données et transmettre mon patrimoine numérique à mes proches lorsque je décéderai. En plus le service est top et surtout, c'est made in France !!
En tant que prévoyant Legapass est un service qui me paraît nécessaire aujourd'hui avec tous les accès numériques que nous possédons : compte sur les réseaux sociaux, gestionnaire de mot de passe, accès cloud… Manque plus que la gestion de patrimoine non numérique 😁
Je cherchais depuis quelques temps un service de sauvegarde des données afin que mes enfants puissent les récupérés en cas d'imprévu et je vous ai connu grâce à une pub sur nice matin. Je trouve la facilité d'utilisation en plus. Bravo a vous et en plus c'est nissart 😁.
At last, a serious, competent and, above all, unrivalled company. The best solution to secure my data and pass on my digital heritage to my loved ones when I die. What's more, the service is top-notch and, above all, it's made in France!
Johan B.
Legapass is your partner for a service that seems necessary today with all the digital access we have Social network account, password manager, cloud access... All that's missing is non-digital asset management 😁
Antony S.
I had been looking for some time for a data backup service so that my children could use them. recover from the unexpected and I heard about you through an ad on nice matin. I find it very easy to use. Bravo a vous et en plus c'est nissart 😁.
Rudy P.
To help you map your assets.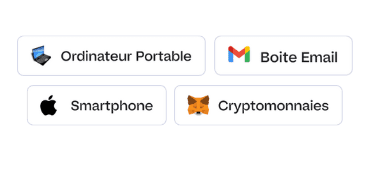 Préparez l'avenir de votre patrimoine en 5 min !
On parle de nous dans la press !