The security of crypto-assets is of critical importance to Ledger key holders. Hard wallets are becoming increasingly popular for securing the storage of our crypto-currencies. However, they raise other issues. In the case of Ledger: how to protect the recovery phrase that provides access to valuable assets?
Protect your Ledger with Ledger Recover
Ledger recover. The latter allows to duplicate your recovery phraseYou can now divide it into 3 parts and send it to 3 companies that will be responsible for its preservation. Access to your Ledger and your recovery phrase will now be possible once you have verified your identity (official ID + facial recognition). The big news is that you no longer have to worry about protecting your Ledger's passphrase.
However, the feature was not unanimously approved at its release, with strong reactions on the Twittosphere: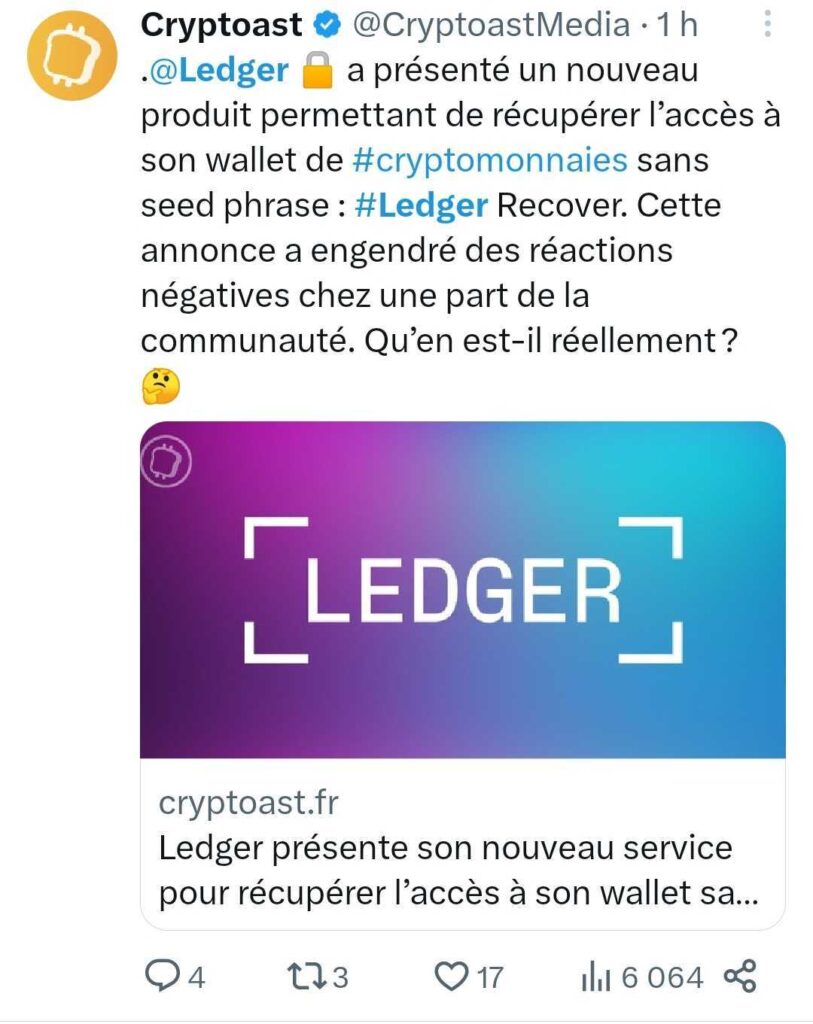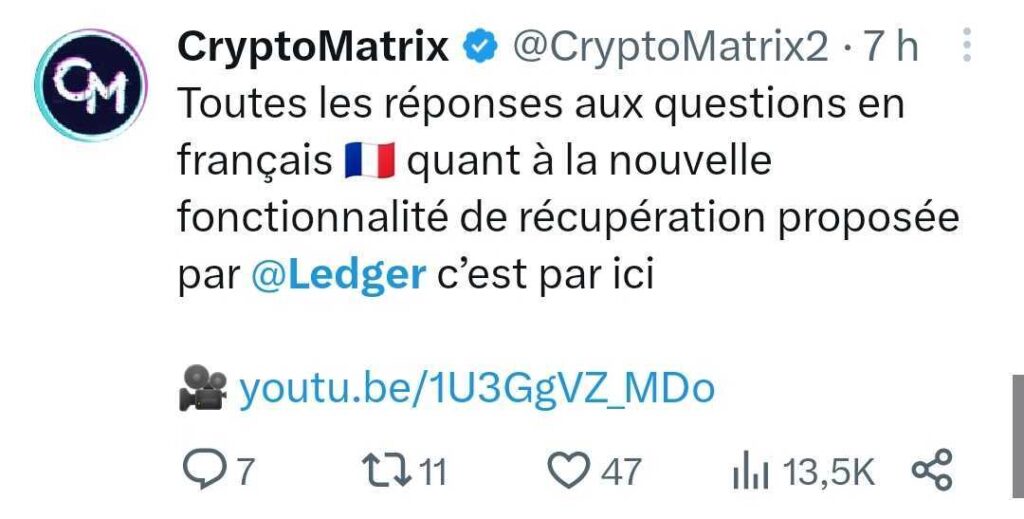 In an effort to better meet the needs of its users, Ledger has proposed a solution that addresses the problem of loss of its recovery phrase. Only from the point of view of its users, this is done at the expense of security with theSending the seed phrase to 3 trusted third parties different.
We have no doubt that Ledger will react quickly and take into consideration the feedback from its users. We take advantage of this news to present you some tips to protect your Ledger with different security levels.
5 tips to protect your Ledger
1. Memorize your sentence if possible
We don't often think about it, but the best way to protect your Ledger isn't it to not keep the sentence in the end? Indeed, the queries on Google are literally exploding: how to hide my sentence, what means to use, etc.  
Memorizing the recovery phrase could therefore be the ultimate solution to protect your Ledger simply. However, this can be a problem for many people. Memorize 24 words today with all the tools we use to remember this task or that, etc. The exercise quickly seems insurmountable.
Not to mention the situation where something happens to you then there... Houston, we have a problem ❌
2. Good old-fashioned metal plate
The metal plate is widely used to protect its Ledger and other crypto wallet (Metamask, ...). This consists of engrave the X words of the recovery phrase on a plaque that will stand the test of time and disaster (fire, etc.). You can find engraving plates by typing the query " metal seed plate "on Amazon for less than 70 euros.
The catch with this type of solution is that if a malicious person gets their hands on it, they have instant access to all your assets. There is also the constant stress of finding the "perfect" hiding place if it exists to make you feel safe.
Ease of Implementation: ⭐⭐⭐
Share the sentence of recovering his Ledger in 3 parts is a solution that can be interesting. Moreover, with its Ledger Recover feature, the French company has chosen this mode of operation to allow its users to recover their wallet in case of loss. The idea is good except that it also multiplies by 3 the risk of loss of its assets in case of burglary, fire. It can also simply be a break in the relationship with the person who holds a piece of the seed sentence.
Ease of Implementation: ⭐⭐⭐
Encrypt the sentence of his Ledger is a safe alternative when the encryption used is reliable. However, it requires computer knowledge to perform the operation or a tool that will do it for you. However, the latter solution will always be less secure than an in-house solution that does not rely on a third party for execution. Generally, this type of solution is chosen by people who already have serious knowledge in development.
5. Using the Legapass solution
Legapass is a solution that allows you to secure your digital assets: social network accounts, cloud access, computer, cryptocurrency accounts seed phrase.
The big strength of Legapass is its level of security as well as its restitution process which avoids any loss of your Ledger's seed. The solution has been literally thought around security with an intuitive design that allows in a few minutes to protect your Ledger and to recover your passphrase in case you lose your pin code or your physical key.
Plus, opening an account is free! 😊
Ease of Implementation: ⭐⭐⭐
The Youtube channel Geekpratique (more than 78 000 subscribers) presents Legapass in its latest video 🙂
We also appeared on TV at BFM 🚀