The security of our personal information online has become a major concern. in the digital age.
Using a password manager as DashlaneYou can protect your sensitive information while making it easier for your family and friends to access the multiple accounts you use. However, it is essential to anticipate the unexpected and to take steps to ensure the secure transmission of your passwords in the event of your death.
Discover how to use Legapass to secure the passwords stored in your Dashlane account And share them in an emergency. 👇
Share your Dashlane access code in an emergency!
1. Dashlane's emergency share function
When you use managers like Dashlane to manage your passwordsYou may be wondering how to share this crucial information with your loved ones in the event of an unforeseen event.
👉 Dashlane offers a feature called "Emergency sharing"which allows share access to your password manager with someone you trust.
By defining an emergency contact and configuring the appropriate settings, you can ensure that your loved ones will have access to your passwords in case of need.
However, this requires the trusted third party to also have a Dashlane account, which can be an obstacle in some cases. There are also 2 other implicit conditions for the transfer to go smoothly.
The beneficiary must have : 
of the file containing the data of the person who wishes to share the account, 
the password to access the file.
⚠️ If you don't have either of these, you won't be able to access the person's data and it will be lost.
2. Recovering your Dashlane account
To configure the sharing your Dashlane account with a trusted third partyyou need to follow these 5 steps:
Create a DASH file,
Store and share the file,
Send the password to your trusted contact,
Import the DASH file into your account to access it,
Follow the restoration process from Dashlane.
The entire process is detailed here.
Although perfectly explained and accessible to a good number of Internet users, this procedure is not infallible for several reasons:
1. If someone with malicious intent gains access to your Dashlane account, they will be able to export all your data.. ⚠️
2. The account holder is responsible for the secure storage of his file until the day it is accessed by the beneficiary. Dashlane recommends storage on a hard disk or USB key. This presents a hardware risk, as this type of consumer device regularly malfunctions, making it impossible to read the file. There is also a security risk if the device is stolen or lost quite simply.
3. Finally, a new DASH file must be generated each time a password is updated or a new addition made. This step is very restrictive for the user and risky sinceyou will have to export your data again several times.
How do I use Legapass to transmit my Dashlane passwords?
First of all, Legapass is NOT a password manager.
➡️ Legapass is a solution that allows you to map your digital assets and keep your most sensitive information ultra-secure so you can pass on your data to your loved ones in the event of your death or recover them in the event of a claim. ✅
For example:
If you lose your Dashlane account login details, you can easily recover them with Legapass.
In the event of a problem, Legapass makes it much easier to share your Dashlane account access codes with friends and family.
Here's how to use Legapass to transmit your Dashlane passwords: 
1. Open your free account on Legapass.com
2. Add a new access code to protect
Click on "Add an access code" and choose "Dashlane".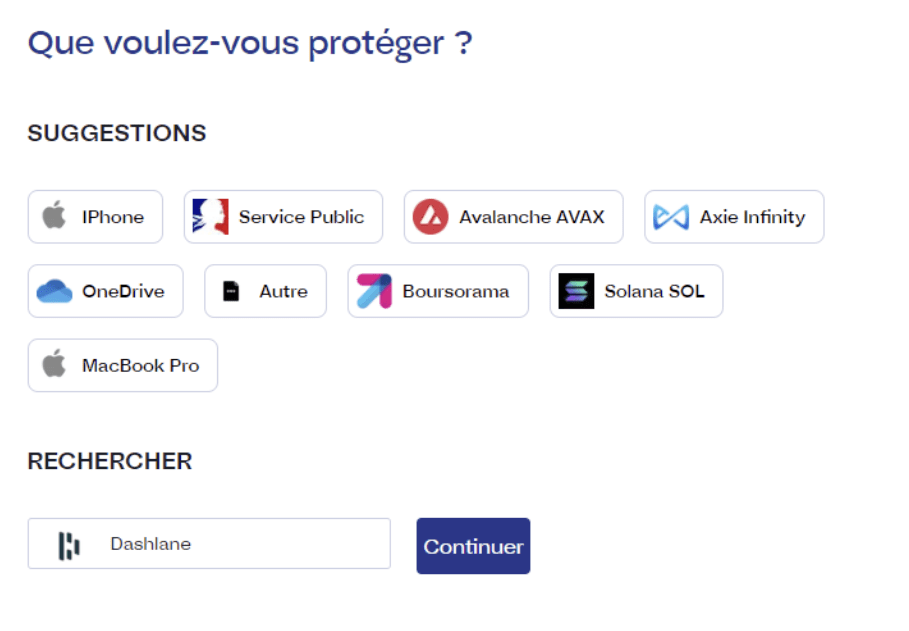 3. Enter your Dashlane email address
Enter the email address you use to log in to your Dashlane account.
4. Check your Dashlane credentials on Legapass
Please check that the login details you entered on your Legapass account are the same as those you use to log in to your Dashlane account. 
Estimated time to secure your Dashlane account on Legapass: 2 minutes. ✅
If necessary, the beneficiary of your choice can contact Legapass to request a refund, providing the necessary proof of identity. Our team will check these documents and make sure everything is in order, your beneficiary will be able to retrieve your login information to connect to your Dashlane account.
Rest assured that all your data is encrypted from end to end (and that we never have access to it). We guarantee that access to your account will be transmitted securely. Even if your beneficiary doesn't have a Dashlane account, he or she will be able to log in naturally and without constraint to access all the features of your Dashlane account.
In conclusion, using Legapass with Dashlane removes all the constraints mentioned above: 
The process of backing up your accesses is even simpler and more secure: it takes around 2 minutes to secure your Dashlane,
You don't have to manage your data storage. No more exporting. We keep access to your Dashlane account encrypted in several offline safes.

Find out why Legapass is secure

.
You can make unlimited password updates to your Dashlane account. You only need to update your Dashlane access on Legapass.
Only your beneficiary can decrypt your data.